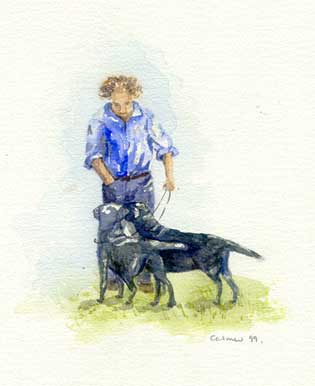 Welcome to the homepage of
Adamasdor Labrador Retrievers
Labradors are at home anywhere, also under the warm South African sun. Adamasdor Labrador Retrievers is home to about 30 Labradors and based on Donkerhoek Farm, approximately 25 km east of Pretoria city centre, still within the Tshwane Metropolitan area in the Gauteng Province of South Africa.
We specialize in the breeding of Labrador Retrievers for the show ring, but believe that any Labrador should, primarily, have that typical temperament that sets them apart from other breeds. It is the Labrador temperament that made them famous for being the best companion dog that anyone could ever hope to have. Temperament and Breed Type are therefore the main components when selecting dogs for our breeding programme. We breed on average 2 - 3 litters per year, from which the best pups are selected for becoming much loved pets and show dogs at Adamasdor, or sold to other breed- and show kennels. Most pups are sold to be companion dogs with good looks and typical temperaments. Despite the large number of dogs, we make every effort to provide a true pet home for all our dogs at Adamasdor. The dogs are kept in large areas around our house and only when really necessary e.g. when bitches are in season, are they kept in separate smaller kennel runs. Every dog receives personal attention and a chance to spend time close to us in and around the house. Dogs are excercised regularly on the farm and get a chance to socialize with each other.
Let us introduce you to our companions at home and in the show ring. We publish on these pages a picture and 5 generation pedigree of most of our dogs. We share on these pages our passion for the breed, our breeding policy and we are keen to make you an acquaintance, so please send us an e-mail after your visit.

Handling Martha and Diva in the Brace Challenge at the LRKC Championship Show, 1999. An original water colour painting done by Carmen Copestake.
Adamasdor Labrador Retrievers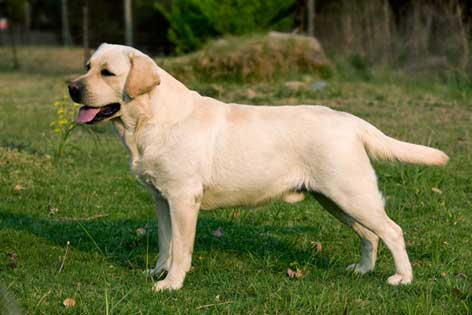 Ch Adamasdor's Rolls Royce (Willem) was the top-winning Labrador Retriever at Championship Shows South Africa during 2008 - 2010. Some of his major achievements at Championship Show level to date are:
1 All-breeds BIS
1 Gundog Club BIS
3 Labrador Specialist BIS
44 BOBs
11 RBOBs
16 Gundog group wins
Numerous Gundog group placings
CONTACT US
Tel: 27 (0)12 940 8211
Mobile: 27 (0)82 888 8128
Fax: 086 654 6181
renier@labradors.co.za
Email ADAMASDOR LABRADORS
204 Donkerhoek Farm, Rhenosterfontein Road, Pretoria East, Gauteng, South Africa 25°47'14.93"S / 28°27'18.89"E
LINKS TO OTHER PAGES ON THIS SITE - MOVE CURSER OVER ICONS BELOW TO SEE PAGE TITLES AND CLICK TO SELECT
Established 1992. Winner of the trophy for TOP PERFORMING KENNEL at the South African Labrador Retriever Kennel Club's Specialty Championship and Open Shows for 9 consecutive years.
RENIER J VAN VUUREN is a SPECIALIST LABRADOR RETRIEVER BREED JUDGE and licensed under the KUSA to judge ALL GUNDOGS BREEDS AT CHAMPIONSHIP SHOW LEVEL.
NEWS FLASH: BLACK AND YELLOW PUPPIES!
We have a new generation of breeding bitches, still carrying the pedigree and type we have built up over the years, but introducing some interesting and exciting new lines to compliment what we already have. Follow the red quick link above to our puppies page to see the details of litters of both black and yellow puppies.